This time of year, we get dozens of e-mails, website inquiries and phone calls every day asking us "how much is a pool" or "what is your cheapest pool". I am an analogy person and whenever someone gives me a question, I try to relate it to something that they know. Almost everyone has bought a house or a car before. So would you go to a realtor and say "how much is a house" or a car dealer and say "how much is a car"? Probably not. Obviously houses and cars can be absolutely worthless to millions of dollars. I have a friend who purchased a run down building for $1 from a local municipality and totally renovated it whereas it is worth over a million times that much right now. How much did he spend to renovate it? Over a million dollars! I also remember my friend buying a Chevrolet chevette car when we were in high school… price, $50. When girls would ask him what he drove, he would respond "a vette". When they saw that it was a chevette with holes in the floorboard, they ran away.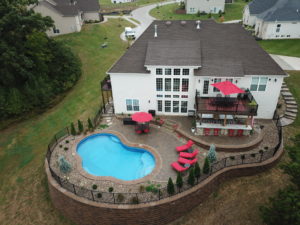 If you are interested in a pool, my best suggestion is to call or e-mail us and ask us for a power point video. Within the first 10 minutes of the video, you will know if a pool is right for you and will find out why you absolutely don't want to go to the builder that will sell you the cheapest pool. Could I dig a hole in your backyard, slap concrete or a liner in there, fill it with water and then drive out of town charging you only thousands of dollars, well I guess so. I would be afraid that you might find me when it falls apart later in the day however, when it turns green, when you find out that a permit wasn't pulled on the job, when you find out that it is leaking into your neighbors yard, etc.
A better question to always ask is what VALUE can you give me. If you are anything like me, I don't mind paying extra if I am getting something extra. If I purchase a wrench from the dollar store, I expect it to break within the week. I don't bring it back 10 years later and say, "check out this piece of crap". I knew it was crap when I bought it. In general, I tell people that they should expect to pay up to 20% of the value of their house on a pool. I further tell them that they likely won't get that price back in resale value. What you will find however is that your house becomes instantly more popular. If kids and grand kids didn't want to come to the house before, they will now! Adding a pool is much more than adding a body of water, it is adding an outdoor living space for family, friends, business associates to enjoy with you. When I am alone and working, my favorite office space is out by the pool with waterfalls running, a fire bowl going or a lighting show happening. Even if people can't afford the pools that we offer, I encourage them to purchase an above ground pool because the fun enjoyed in the backyard. Especially in the times that we are in right now where vacationing isn't high on peoples list, they can stay home and have a backyard vacation for months on end… longer than any vacation could offer. When your spouse says "I want to go somewhere where they have a beautiful pool, sounds of water, warm water, warm weather and drinks poolside," you can say "grab a margarita and go outside."
We are sorry that this post was not useful for you!
Let us improve this post!
Tell us how we can improve this post?